Springcreek Baptist Church

Announcements:
Tack Force 3:16
July 23rd- 27 th Next Camp
Children Ministry
Summer Splash 2 yrs – 6th grade
Children ages toddler – 3rd grade
July 9 th -12 th Family Family ( leave at 8 am back at 5pm)
See Jennifer for more information

Whatever Group – Ages 4th – 6th Grade
Summer Splash 2 yrs – 6th grade
July 29th – 5th Sunday Lunch Fellowship – No Evening Services

Senior Adult Group Trip
July 23 rd – Grant County Museum & Whippet for lunch
Leave 9 am and Return 2 pm

Cost $15 per person payable at museum and Whippet.
Aug 5th at 9 am Ladies Meeting
Fellowship Hall
Sept 11th – Nov 13th – Ladies Bible Study Group 12:30 pm – 2 pm
1 st and 3rd Tuesday of each month
Meets in the Homemaker Class Room
"Entrusted" By Beth Moore
Books $15, Must pay by August 13th.
ABA WOMEN'S RETREAT
September 14 th & 15 th Benton Event Center
Theme is "
HOPE IN JESUS
" based on Hebrews 6:19.
Sign up Sunday, July 15th See Wanda Price for more info.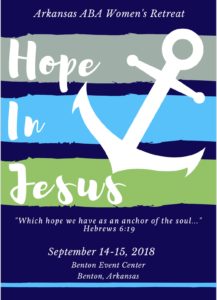 Every Thursday -Men's Bible Study 12-1 pm
"A Glimpse Ahead" A Study of the Book of Revelation
Bring your Lunch and beverage.